​
Pet Care Information
---
Quality Diets and Pet Nutrition
We are what we eat so the best quality food will give the best results. We stock a large range of imported and locally made foods for pets of all shapes and sizes and for all sorts of special requirements such as sensitive stomachs, hair ball formulas, sensitive itchy skins etc.
Specialised Nutrition and Prescription Diets
Specific diets can be of enormous help in managing some medical conditions eg Kidney & liver problems. These specific diets are perfectly balanced to help the body deal with the condition being treated
V

accinations
Vaccinating our pets is the best way to prevent some common and often fatal diseases of dogs and cats. A vaccination stimulates the immune system to react fast and effectively when an animal gets exposed to that particular disease. Common diseases in dogs that we vaccinate against are parvovirus , kennel cough , infectious hepatitis , distemper and rabies. Common diseases in cats that we vaccinate against are feline panleukopaenia virus, snuffles, and rabies. We use the following vaccination time protocols in our practice.

Dogs are vaccinated at 6 weeks, 9/10 weeks, 12/14 weeks and then annually for the 5 in 1 vaccine – for rabies at 14 weeks, 20 weeks and then every year.

Cats are vaccinated at 9 weeks, 13 weeks, and annually for the 3 in 1 – for rabies at 13 weeks, 17 weeks and then every three years.

We will send a reminder by post or by SMS to you when your pet is due for their check up and vaccination.

The annual visit for the vaccination also gives us an opportunity to do a thorough clinical examination on your pet which enables us to recognise diseases early, for example heart disease.
This means we can treat your pet earlier for the specific condition, and often have better results.
Deworming
Worms are very commonly found in dogs and cats in South Africa and can be a major source of disease and debility in our pets and can be fatal especially to young animals.
More over some worms can be transmitted to humans and cause severe problems. The close contact between our pets and ourselves means we must deworm our pets regularly with approved broad-spectrum medication that will kill round worms and tape worms. The frequency of deworming depends on many factors including age and region.

Please speak to one of our vets for more advice.
Weight and obesity
Weight problems in our pets are common and cause the same problems as with ourselves. Heat intolerance, stiffness, diabetes and heart disease are just some of the commonly encountered conditions. Reduced calorie foods are available to help pets lose weight safely and we have a weighing scale in our waiting room to monitor results. The difference in our pets lifestyle and activity once the have lost weight is astounding. Trained nutritional advisors are available to assist. We now have a weight clinic where we use a computer model to calculate calorific requirements accurately show results on a graph as we go along.
Arthritis
Osteoarthritis is one of the most common debilitating diseases affecting dogs. 1 in 5 adult dogs shows signs. Often these signs are not recognised as pain by the owners and are attributed to "getting older." We only appreciate that our friends are in pain when we give them pain killers and we see the improvement. Modern anti-inflammatories and nutraceuticals can have a significant effect on chronic pain, and can change lives. Cats are also commonly affected by arthritis but this often goes unrecognised as they dont show evidence of pain and stiffness. Treatments and diets are now readily available to help them also.
Lumps and Bumps
Lumps and growths are common in dogs and cats particularly as they get older. Owners are often too scared to have them checked out in case they are bad news. Not all lumps are cancerous - many are benign and can be easily, safely and permanently removed. Don`t leave them to grow large because then removal is very much more difficult and the lumps` character may change to make them more dangerous
My cat is eating like crazy and not picking up weight
Hyperthyroidism in cats
What is hyperthyroidism?
Hyperthyroidism is a condition that arises from an excessive production and secretion of active thyroid hormones by an abnormally functioning thyroid gland. First recognised in the late 1970's, the frequency of diagnosis has escalated dramatically - currently it is the most common endocrine (hormone system) disease in cats and also one of the more frequently diagnosed disorders in the veterinary field. The condition is estimated to affect 1 in 300 cats.
My dog's nose seems to be all clogged up and hard and he is not well at all
Distemper in dogs
Following recent outbreaks of Distemper (Hondesiekte in Afrikaans) in Kwa Zulu Natal and Gauteng, it is important to have an understanding of this disease which is fatal in half of all cases of dogs that contract the disease.
My older German Shepherd Dog seems to be getting weak in its hindquarters
Degenerative Myelopathy
This article outlines a genetic disorder that mainly German Shepherd dogs are prone to. There are other breeds affected by this condition too like Chesapeake Bay Retrievers, Corgis, Boxers, Wirehaired Fox Terriers and Rhodesian Ridgebacks, however, the disease is mostly seen in German Shepherds.
If one breaks down the name of the disease it describes what happens with the disease. Degeneration refers to a breaking down or deterioration of something. That "something" in this case is myelin which is the insulating sheath around neurons in the spinal cord. Neurons are the "electrical wires" of the nervous system and one can compare myelin to the insulating plastic around the wires, almost like one would find with an electrical cord. Whenever a term is followed by "pathy" it refers to a disease or disorder in a certain part of the body. In this case the spinal cord.
I found a lump on my animal's skin. Is it cancer?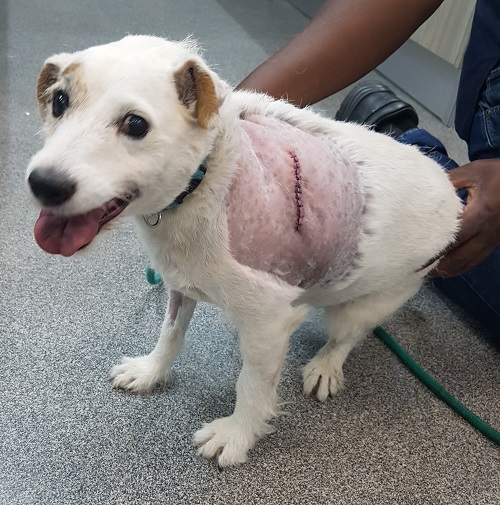 Lumps and Bumps in your Pet
Finding a lump or a bump in your pet which you have never noticed before, can cause serious worry for pet owners. This article will highlight what to watch out for when to take your pet to the vet and the process veterinarians follow when approaching any lump found on a pet.
Firstly, it is always important to remember that you can never tell how serious a mass on your pet is by simply feeling it and judging by its size. Dynamite can often come in small packages and some of the most aggressive skin cancers may present as a simple small raised area on the skin. Generally, lumps on a cat tend to be more dangerous and they are not something to be ignored. All growths have to start small but may grow very rapidly. Lumps come in all shapes and sizes and for that reason, it is always best to get any lump on the skin or underneath the skin checked by the veterinarian as soon as you discover it. This will provide peace of mind to you as an owner if it is simply a dermal cyst or a small wart-like growth, both of which will not cause any major health issues for your pet. Alternatively, if it is something more aggressive and dangerous, it is always better to start treatment as soon as possible. If it is determined to be a bad type of growth (malignant), the sooner it is diagnosed the better the prognosis for both removing it surgically or starting any other form of treatment.
Can my kitten make me sick?
Cat Scratch Disease
There are many diseases that can be transmitted from animals to humans. These diseases are called zoonotic diseases. Although the list below is by no means comprehensive, some of the more common diseases that we can get from our household pets are:
Ringworm, which is a fungal infection of the skin
Hook worm, roundworm and tapeworm infection
Toxoplasmosis
Cat scratch disease
Scabies, a mite that causes severe itchiness and skin lesions
In this article we are going to look at cat scratch disease (CSD), the cause of it, the symptoms and how to prevent it. Cat scratch disease, or cat scratch fever, is caused by an organism called Bartonella henselae or formerly called Rochalimaea henselae. It is a small anaerobic (organism which does not need oxygen to survive), gram-negative, non-motile bacterium. Domestic cats are the natural hosts for this organism and the animal from which humans can contract the disease (also known as the vector). If a cat harbors this bacterium, the cat very rarely shows any signs of the disease which is described as asymptomatic. It is therefore impossible to tell if a cat is infected with this organism without further testing. Fleas are the organism responsible for transmission of the disease between cats and therefore flea control is one of the best ways to prevent this disease. The infection rate is much higher in a population of cats that are flea ridden and can be as high as 61%. As a cat scratches and bites at fleas, the organism gets stuck between their teeth and under their nails. Kittens younger than 12 months are 15 times more likely to carry the infection than adult cats.
My dog is scooting on its backside and I think it has worms
Anal sac disease in dogs
Many veterinarians are presented by concerned pet owners about the animal's scooting or dragging their backsides along the ground by holding the back legs up in the air and pulling themselves forward by the front legs whilst remaining in a seated position. The owner often thinks that the animal may have worms and is trying to get the worms out their backside by dragging it along the ground. Although this is quite possible to be the case, especially in the case of tapeworm infestation, it is unlikely to be the cause. The most common cause for this behaviour is uncomfortable anal glands.
Is your pet safe?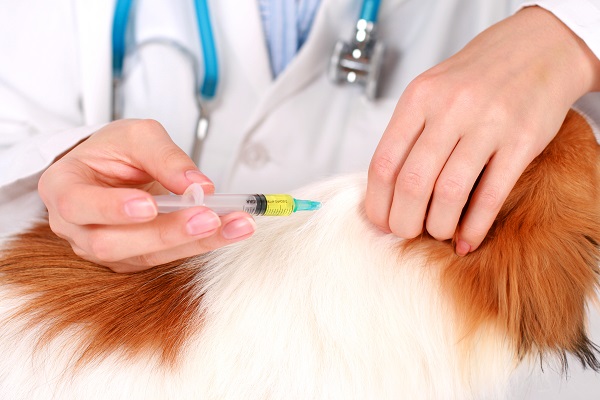 Fatal Diseases that can easily be prevented
Fatal Diseases that can easily be prevented
There are some fairly common fatal diseases in animals which can and should be prevented wherever possible. This article looks at how these diseases present, what they lead to and most importantly how they could be prevented. Today we have more information about our animals and the diseases they may suffer from than ever before. With this knowledge comes the means of preventing these conditions that years ago would have meant certain death to our beloved pets. The most important means of disease prevention readily available to us is vaccination. A simple annual health check and vaccinations can help ensure your pet lives a long and healthy life. Other important means of prevention includes regular deworming as well as tick and flea treatment.
What causes back pain in dogs?
Disc disease in dogs
Introduction
Intervertebral disc disease is a term that describes the condition in which the softer cartilage like material in between the bones of the spine, called an intervertebral disc, pushes onto the spinal cord, causing clinical signs that varies from slight back pain and discomfort to complete paralysis of limbs. Even with the slightest clinical signs, your pet should be examined by the vet to establish how serious the condition is and be treated accordingly. The earlier this is attended to, the better the overall outcome.
Old man's gland - Do dogs have the same problems as humans?
Prostate disease in the dog
The prostate is the only accessory sex gland in the male dog. It is a butterfly shaped structure that surrounds the urethra (the tube that connects the bladder to the outside). Due to the location of the prostate, it can affect the urinary system, the colon and the hind legs, as well as having some systemic effects. Prostatic fluid is produced continuously in the dog. Prostatic fluid makes up most of the volume of seminal fluid (the fluid that carries semen). The prostate has many nerves and blood vessels running to it but is surrounded by a thick capsule, which sometimes makes it difficult for some drugs to get deep down into the prostate. Normal prostatic function is dependent on circulating testosterone. The prostate can develop a few conditions that can result in debilitating disease in the dog.
Pregnant women have to watch out for this bug carried by cats
Toxoplasmosis
Introduction
Toxoplasma gondii is a tiny organism, slightly bigger than a bacterium, called a protozoa. This parasite has a worldwide distribution, except in the absence of cats. Cats are the only animals capable of completing the life cycle of this organism. Other warm blooded animals, including cats can serve as intermediate hosts for the parasite. The organism has a very high prevalence, but rarely causes clinical disease in dogs and cats. This is an important parasite to be aware of due to the fact that it is an important zoonosis, meaning it is an animal disease that can be transmitted to humans.