​
Pet Care Information
---
Quality Diets and Pet Nutrition
We are what we eat so the best quality food will give the best results. We stock a large range of imported and locally made foods for pets of all shapes and sizes and for all sorts of special requirements such as sensitive stomachs, hair ball formulas, sensitive itchy skins etc.
Specialised Nutrition and Prescription Diets
Specific diets can be of enormous help in managing some medical conditions eg Kidney & liver problems. These specific diets are perfectly balanced to help the body deal with the condition being treated
V

accinations
Vaccinating our pets is the best way to prevent some common and often fatal diseases of dogs and cats. A vaccination stimulates the immune system to react fast and effectively when an animal gets exposed to that particular disease. Common diseases in dogs that we vaccinate against are parvovirus , kennel cough , infectious hepatitis , distemper and rabies. Common diseases in cats that we vaccinate against are feline panleukopaenia virus, snuffles, and rabies. We use the following vaccination time protocols in our practice.

Dogs are vaccinated at 6 weeks, 9/10 weeks, 12/14 weeks and then annually for the 5 in 1 vaccine – for rabies at 14 weeks, 20 weeks and then every year.

Cats are vaccinated at 9 weeks, 13 weeks, and annually for the 3 in 1 – for rabies at 13 weeks, 17 weeks and then every three years.

We will send a reminder by post or by SMS to you when your pet is due for their check up and vaccination.

The annual visit for the vaccination also gives us an opportunity to do a thorough clinical examination on your pet which enables us to recognise diseases early, for example heart disease.
This means we can treat your pet earlier for the specific condition, and often have better results.
Deworming
Worms are very commonly found in dogs and cats in South Africa and can be a major source of disease and debility in our pets and can be fatal especially to young animals.
More over some worms can be transmitted to humans and cause severe problems. The close contact between our pets and ourselves means we must deworm our pets regularly with approved broad-spectrum medication that will kill round worms and tape worms. The frequency of deworming depends on many factors including age and region.

Please speak to one of our vets for more advice.
Weight and obesity
Weight problems in our pets are common and cause the same problems as with ourselves. Heat intolerance, stiffness, diabetes and heart disease are just some of the commonly encountered conditions. Reduced calorie foods are available to help pets lose weight safely and we have a weighing scale in our waiting room to monitor results. The difference in our pets lifestyle and activity once the have lost weight is astounding. Trained nutritional advisors are available to assist. We now have a weight clinic where we use a computer model to calculate calorific requirements accurately show results on a graph as we go along.
Arthritis
Osteoarthritis is one of the most common debilitating diseases affecting dogs. 1 in 5 adult dogs shows signs. Often these signs are not recognised as pain by the owners and are attributed to "getting older." We only appreciate that our friends are in pain when we give them pain killers and we see the improvement. Modern anti-inflammatories and nutraceuticals can have a significant effect on chronic pain, and can change lives. Cats are also commonly affected by arthritis but this often goes unrecognised as they dont show evidence of pain and stiffness. Treatments and diets are now readily available to help them also.
Lumps and Bumps
Lumps and growths are common in dogs and cats particularly as they get older. Owners are often too scared to have them checked out in case they are bad news. Not all lumps are cancerous - many are benign and can be easily, safely and permanently removed. Don`t leave them to grow large because then removal is very much more difficult and the lumps` character may change to make them more dangerous
Help! My pet has just drank some Anti-Freeze
Ethylene Glycol Toxicity
Winter has arrived and many people, as a precautionary measure, are putting antifreeze into their cars' radiators, to prevent the water from freezing.
Ethylene glycol is the main ingredient found in antifreeze. Antifreeze is not as commonly used in South Africa as on other very cold parts of the world, as we do not get the very cold temperatures found in some parts of the Northern hemisphere. It is however found in many other products, which are found in South Africa. It is found in lower, less harmful concentrations in hydraulic brake fluid, solvents, motor oils, paints, film-processing solutions, wood stains, inks and printer cartridges.
My puppy is trying to chew the cord of my laptop charger
Electrical Injury in our pets
Although this may sound like a very unusual topic to discuss it is something that happens far more frequently than we would like. The most common reason for our pets to get electrocuted is chewing on electrical cords. In general the age groups affected in both cats and dogs are approximately 2 months to 2 years of age - the young and the curious. During this phase of their development they tend to be curious about the world. Teething and growing creates the perfect atmosphere for chewing anything in their path. The incidence of electrocution can often coincide with the festive season with all the decorative lighting being put up but for most of us who work with a laptop from time to time and has to plug it in to charge, this could pose a risk for our pets.
My dog makes a strange snorting sound with funny gagging movements almost like something is stuck in his/her throat.
Reverse Sneezing in dogs
What is reverse sneeze?
Reverse sneezing is repetitive, forceful inspiratory (breathing in) efforts generally caused by irritation of the lining of the naso-pharynx or area at the back of the mouth and nose where these two openings join into one. Unlike a normal sneeze where air is forcefully pushed out the nose to clear the irritation, a reverse sneeze involves air being pulled forcefully and rapidly into the nose. This is commonly seen in small and toy breeds breeds with long thin nasal passages like Miniature Pinchers, Toy Poms, Chihuahuas, Malteses, Dachshunds, Poodles, Yorkshire Terriers and other Terriers, etc., and brachycephalic (short nose) breeds like Pugs, Boston Terriers, Shih Tsus, Pekingeses, etc.
My dog's stomach is suddenly very bloated and he is very uncomfortable
The dreaded Gastric Dilatation and Volvulus (GDV) Syndrome - Twisted Stomach
Gastric Dilatation and Volvulus (GDV) is a rapidly progressive life-threatening condition in dogs characterised by bloating and twisting of the stomach. Patients admitted with suspected GDV are treated as an emergency as the condition is life threatening. Treatment may require medical and surgical intervention. It is commonly associated with large or giant breed, deep-chested animals between 2 and 10 years of age. Some breeds affected are German Shepherds, Rhodesian Ridgebacks, Great Danes, Dobermans, Irish Setters and Basset hounds but any breed and age can be affected.
My pet was hit by a car on its hindquarters
Pelvic Fractures
This article gives a simple overview of what to expect when a pet has a pelvic fracture, what are the most common causes and associated injuries, and what treatment options are available.
Pelvic Fractures are a fairly common occurrence and it is something veterinarians in private practice are faced with almost on a weekly basis. The pelvis is an essential part of a pet's skeletal structure and forms the framework around which their hind limbs move and function. Not only is it essential to our pets ability to walk but there are some very sensitive and important structures that lie in and around the pelvis which can easily be damaged in the event of a pelvic fracture. This will be explained in more detail later on in the article.
Is your pet safe?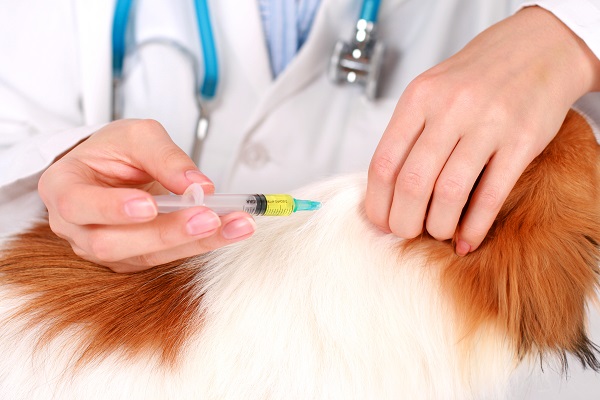 Fatal Diseases that can easily be prevented
Fatal Diseases that can easily be prevented
There are some fairly common fatal diseases in animals which can and should be prevented wherever possible. This article looks at how these diseases present, what they lead to and most importantly how they could be prevented. Today we have more information about our animals and the diseases they may suffer from than ever before. With this knowledge comes the means of preventing these conditions that years ago would have meant certain death to our beloved pets. The most important means of disease prevention readily available to us is vaccination. A simple annual health check and vaccinations can help ensure your pet lives a long and healthy life. Other important means of prevention includes regular deworming as well as tick and flea treatment.
Proptosis
Displacement of the eyeball
Proptosis is defined, as the forward displacement of the globe (eyeball) out of the socket, with the eyelids trapped behind the globe.
Proptosis is an ophthalmic emergency. Any suspected trauma to your pet's eye warrants a visit to your veterinarian immediately.
Let us first have a look at the normal eye anatomy:
Predisposing factors: Breed predisposition
Proptosis is a condition more commonly seen in Brachycephalic breeds (dogs with prominent bulging eyes, short noses and shallow eye sockets). Pekingese, Pug, Boston terrier and Shihtzu are over represented.
What causes back pain in dogs?
Disc disease in dogs
Introduction
Intervertebral disc disease is a term that describes the condition in which the softer cartilage like material in between the bones of the spine, called an intervertebral disc, pushes onto the spinal cord, causing clinical signs that varies from slight back pain and discomfort to complete paralysis of limbs. Even with the slightest clinical signs, your pet should be examined by the vet to establish how serious the condition is and be treated accordingly. The earlier this is attended to, the better the overall outcome.
Can I treat my pet's wound at home?
Wound Care at Home
When managing wounds at home it is important to always contact your veterinarian for assistance. Many home and even human wound remedies are not suitable for use in pets. Determining factors in deciding whether a wound can be treated at home or needs veterinary care includes the severity and age of the wound, the cause and location of the wound, and most importantly if the pet is leaving the wound alone. In most instances the safest and most effective way to deal with it is to take the injured pet to the veterinarian for initial treatment and advice on continued care at home. In this article we will go over some of the major components of wound treatment and care as well as giving you guidelines on when to visit the vet.
Do cats bite for no reason?
Aggression in cats
Cats are often seen as less aggressive animals than dogs but they have five sharp ends that can be used at a moments notice. Cats may also be seen as more instinctive than dogs, mimicking some of the behaviour seen in their wild counterparts. This is obviously on a much smaller level. Aggression can be directed towards people, cats, other species such as dogs, rabbits and birds or inanimate objects, which would include toys or furniture. The most common causes of aggression in cats can be described under the following categories: