​
Pet Care Information
---
Quality Diets and Pet Nutrition
We are what we eat so the best quality food will give the best results. We stock a large range of imported and locally made foods for pets of all shapes and sizes and for all sorts of special requirements such as sensitive stomachs, hair ball formulas, sensitive itchy skins etc.
Specialised Nutrition and Prescription Diets
Specific diets can be of enormous help in managing some medical conditions eg Kidney & liver problems. These specific diets are perfectly balanced to help the body deal with the condition being treated
V

accinations
Vaccinating our pets is the best way to prevent some common and often fatal diseases of dogs and cats. A vaccination stimulates the immune system to react fast and effectively when an animal gets exposed to that particular disease. Common diseases in dogs that we vaccinate against are parvovirus , kennel cough , infectious hepatitis , distemper and rabies. Common diseases in cats that we vaccinate against are feline panleukopaenia virus, snuffles, and rabies. We use the following vaccination time protocols in our practice.

Dogs are vaccinated at 6 weeks, 9/10 weeks, 12/14 weeks and then annually for the 5 in 1 vaccine – for rabies at 14 weeks, 20 weeks and then every year.

Cats are vaccinated at 9 weeks, 13 weeks, and annually for the 3 in 1 – for rabies at 13 weeks, 17 weeks and then every three years.

We will send a reminder by post or by SMS to you when your pet is due for their check up and vaccination.

The annual visit for the vaccination also gives us an opportunity to do a thorough clinical examination on your pet which enables us to recognise diseases early, for example heart disease.
This means we can treat your pet earlier for the specific condition, and often have better results.
Deworming
Worms are very commonly found in dogs and cats in South Africa and can be a major source of disease and debility in our pets and can be fatal especially to young animals.
More over some worms can be transmitted to humans and cause severe problems. The close contact between our pets and ourselves means we must deworm our pets regularly with approved broad-spectrum medication that will kill round worms and tape worms. The frequency of deworming depends on many factors including age and region.

Please speak to one of our vets for more advice.
Weight and obesity
Weight problems in our pets are common and cause the same problems as with ourselves. Heat intolerance, stiffness, diabetes and heart disease are just some of the commonly encountered conditions. Reduced calorie foods are available to help pets lose weight safely and we have a weighing scale in our waiting room to monitor results. The difference in our pets lifestyle and activity once the have lost weight is astounding. Trained nutritional advisors are available to assist. We now have a weight clinic where we use a computer model to calculate calorific requirements accurately show results on a graph as we go along.
Arthritis
Osteoarthritis is one of the most common debilitating diseases affecting dogs. 1 in 5 adult dogs shows signs. Often these signs are not recognised as pain by the owners and are attributed to "getting older." We only appreciate that our friends are in pain when we give them pain killers and we see the improvement. Modern anti-inflammatories and nutraceuticals can have a significant effect on chronic pain, and can change lives. Cats are also commonly affected by arthritis but this often goes unrecognised as they dont show evidence of pain and stiffness. Treatments and diets are now readily available to help them also.
Lumps and Bumps
Lumps and growths are common in dogs and cats particularly as they get older. Owners are often too scared to have them checked out in case they are bad news. Not all lumps are cancerous - many are benign and can be easily, safely and permanently removed. Don`t leave them to grow large because then removal is very much more difficult and the lumps` character may change to make them more dangerous
Your pet's once a year health check-up
Annual Check up
Many people wonder why vets recommend having a once a year check-up for pets. There are many reasons but probably the most important is that the average dog or cat ages by approximately seven "dog/cat years" for every human year. It may differ slightly from breed to breed and usually cats and small breed dogs age slower than large breed dogs. The average life expectancy of a large breed dog is about twelve years whereas cats and smaller breed dogs can quite comfortably live to eighteen years. Just like in humans where the average life expectancy has increased dramatically over the last twenty years because of better healthcare, proper nutrition and a general improvement in living conditions, so has the life expectancy of our pets. Animals which are kept as domestic pets live a much more sheltered lifestyle than their wild counterparts, where there is little protection from natural predators and harsh environmental conditions. Nutrition for pets has also become a much more advanced science than in years gone by and these days it is quite common to find specialised diets for life stages, breed types and conditions. The average quality of life and life expectancy in large breed dogs who suffer from arthritis has been substantially increased because of specialised diets catering for their particular needs.
Behaviour difficulties
Behaviour
"Man's best friend." The reason why dogs have been described like this over centuries is because of their unwavering loyalty and their good nature towards humans. However now and again, behavioural problems crop up in pet dogs which cause many people to dispute whether dogs are really man's best friend. Behavioural problems can range from aggression, to destructive behaviour like chewing and digging, to house soiling. Some of these problems can be blamed on uninformed and uninvolved owners who do not spend the time to properly socialise and do basic training when they first acquire their dogs as puppies.
Spaying / Neutering your pet
Spaying & Neutering
People will often refer to sterilising an animal or alternatively called spaying or neutering of a pet as a "snip-snip". This makes it sound like it is a quick, outpatient procedure, which only takes a few minutes and only cost a few rand. Nothing could be further away from the truth. Spaying or neutering pets is a full-blown surgical operation which requires a general anaesthetic.
Vaccinating your puppy and kitten
Vaccination
Getting a new puppy or kitten is always exciting and most of us just want to cuddle this cute little bundle of fur. It would be lovely if this were enough to keep them healthy and disease free forever but unfortunately it isn't. Just like human children, animal babies also need immunization when they are very young.
A newborn puppy or kitten isn't naturally immune. They do have some antibody protection that they received through the mother's blood via the placenta, but this is roughly only 10%. The other 90% is through the first milk they take in from their mother. This milk is called first milk or colostrum because only the milk produced in the first two days after birth contains antibodies (called maternal antibodies). These antibodies are like little soldiers standing ready to counter any attack from a virus (the enemy). The intestinal lining of the newborn starts changing 6 hours after birth and starts losing the ability to absorb these antibodies. It is therefore very important for new puppies and kittens to start suckling as soon as possible after birth. The newborn is only able to absorb these maternal antibodies for the first two days of its' life. Proper vaccination of the mother will ensure that she has proper antibodies levels which can then be passed on to her babies. If for some reason the puppy or kitten did not receive this precious colostrum (fostered pets, bottle fed pets or perhaps failure of the mother to produce milk), they will be at a greater risk of contracting disease.
The worm you did not know about - Spirocerca lupi
Worms
Most people do not know about this little worm. It has a strange and difficult name and an equally strange life-cycle. Normal deworming remedies do not kill this parasite and most people do not even know when their dog is infected with it. This article will try and shed some light on the how, what and where of Spirocerca lupi.
Spirocerca lupi is a roundworm. It is red in colour and 40 – 70 mm long. The eggs contain the larvae and have the shape of a paperclip. The eggs and larvae are passed from one host to another and this process normally starts when an animal passes the eggs in its stools. For example, a dung beetle ingests the eggs while working with or rolling in infected stools. The larvae then hatch inside the dung beetle and develop into more mature forms. A bird, lizard or another small animal might eat the dung beetle and then become infected with the larvae. Your dog will then become infected by eating the bird or lizard, called an intermediate host. This disease has not yet been seen in cats.
Periodontal disease in dogs and cats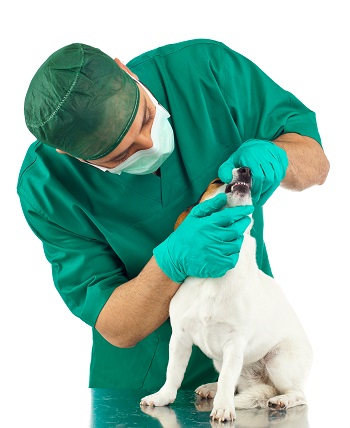 Dental Care
"My dog/cat has bad breath!" This is probably one of the most common complaints vets hear from pet owners. Halitosis (bad breath) can be caused by many things, but is most often related to dental disease.
Nowadays pets are part of the family. They sit next to us on the couch when we watch television, they sleep with us in our beds and we even take them on holiday – they are practically human! This means we take better care of them and they therefore live much longer. Fortunately, as a result of this close relationship, we notice problems like bad breath much earlier (one cannot help but smell something if you share your pillow with a furry friend) and we can do something about it so much sooner.
The infallible flea
Fleas
Fleas are the most common pests on our pets. The immature stages (larvae, pupae) can survive for a long time in crevices, sofas, dog beds and carpets, just waiting for the right circumstances (e.g. heat, humidity) to hatch and cause mayhem. Then they not only irritate our pets but can also cause discomfort in humans. Many people will tell you that getting rid of a flea infestation in your home can be quite difficult and costly.
The no-good, the bad and the ugly
Worms
Few people can hear the word "worms" without cringing – especially if it is related to a beloved pet. Unfortunately, parasites living in the stomach and intestines occur all too common in our dogs and cats. These parasites live in the digestive tract, causing damage and robbing your pet of much needed nutrients. The amount of damage they cause depends on the type and number of worms your pet has.
Tiny but deadly
Ticks
Living in a warm and sunny country is great, but with it comes all the parasites and diseases associated with a warm and/or tropical climate. One of these little scourges can be found nearly all over South Africa, namely ticks. Most people have at some or other time encountered a tick on their pet. This can be quite distressing – especially if you consider a disease like biliary (tick fever).