​
Pet Care Information
---
Quality Diets and Pet Nutrition
We are what we eat so the best quality food will give the best results. We stock a large range of imported and locally made foods for pets of all shapes and sizes and for all sorts of special requirements such as sensitive stomachs, hair ball formulas, sensitive itchy skins etc.
Specialised Nutrition and Prescription Diets
Specific diets can be of enormous help in managing some medical conditions eg Kidney & liver problems. These specific diets are perfectly balanced to help the body deal with the condition being treated
V

accinations
Vaccinating our pets is the best way to prevent some common and often fatal diseases of dogs and cats. A vaccination stimulates the immune system to react fast and effectively when an animal gets exposed to that particular disease. Common diseases in dogs that we vaccinate against are parvovirus , kennel cough , infectious hepatitis , distemper and rabies. Common diseases in cats that we vaccinate against are feline panleukopaenia virus, snuffles, and rabies. We use the following vaccination time protocols in our practice.

Dogs are vaccinated at 6 weeks, 9/10 weeks, 12/14 weeks and then annually for the 5 in 1 vaccine – for rabies at 14 weeks, 20 weeks and then every year.

Cats are vaccinated at 9 weeks, 13 weeks, and annually for the 3 in 1 – for rabies at 13 weeks, 17 weeks and then every three years.

We will send a reminder by post or by SMS to you when your pet is due for their check up and vaccination.

The annual visit for the vaccination also gives us an opportunity to do a thorough clinical examination on your pet which enables us to recognise diseases early, for example heart disease.
This means we can treat your pet earlier for the specific condition, and often have better results.
Deworming
Worms are very commonly found in dogs and cats in South Africa and can be a major source of disease and debility in our pets and can be fatal especially to young animals.
More over some worms can be transmitted to humans and cause severe problems. The close contact between our pets and ourselves means we must deworm our pets regularly with approved broad-spectrum medication that will kill round worms and tape worms. The frequency of deworming depends on many factors including age and region.

Please speak to one of our vets for more advice.
Weight and obesity
Weight problems in our pets are common and cause the same problems as with ourselves. Heat intolerance, stiffness, diabetes and heart disease are just some of the commonly encountered conditions. Reduced calorie foods are available to help pets lose weight safely and we have a weighing scale in our waiting room to monitor results. The difference in our pets lifestyle and activity once the have lost weight is astounding. Trained nutritional advisors are available to assist. We now have a weight clinic where we use a computer model to calculate calorific requirements accurately show results on a graph as we go along.
Arthritis
Osteoarthritis is one of the most common debilitating diseases affecting dogs. 1 in 5 adult dogs shows signs. Often these signs are not recognised as pain by the owners and are attributed to "getting older." We only appreciate that our friends are in pain when we give them pain killers and we see the improvement. Modern anti-inflammatories and nutraceuticals can have a significant effect on chronic pain, and can change lives. Cats are also commonly affected by arthritis but this often goes unrecognised as they dont show evidence of pain and stiffness. Treatments and diets are now readily available to help them also.
Lumps and Bumps
Lumps and growths are common in dogs and cats particularly as they get older. Owners are often too scared to have them checked out in case they are bad news. Not all lumps are cancerous - many are benign and can be easily, safely and permanently removed. Don`t leave them to grow large because then removal is very much more difficult and the lumps` character may change to make them more dangerous
Smelling as fresh as a spring breeze
How to bath your pet

Human hygiene and animal hygiene are worlds apart. Whatever is considered to be clean for humans is totally something else for our pets. Dirt may easily be disguised in the thick (or thin) coat of a pet and only once the animal is washed do we really see how dirty they are.
Cats spend their days and nights grooming themselves. However many cats love taking a dust bath and will revel in the opportunity to curl and then wriggle on their back from side to side on a nice patch of bare soil.
Fireworks and Thunderstorms and your pet
Anxiety Attacks in pets
Anxiety and angst is as much part of the animal world as it is of the human world. As humans, the way in which we manage stress and anxiety is largely related to our understanding of our environment and an interpretation of cause and effect. Unfortunately this is not the same for animals. A human who is about to set off a large fire cracker can warn all those around them of the impending bang, and prepare everyone for the impact. However explaining to a dog or cat that the glitter of a burning fuse will lead to a thunderous crack to which they should not respond, is impossible. Add to that the anatomy of animals' ears which have been specifically designed to amplify sounds by turning the ears towards sounds, and you have a recipe for disaster when it comes to shooting off fireworks in the vicinity of animals.
New puppies and kittens - Part 3 of 3
Breeding with my dog or cat � Should I or should I not?
Nobody will dispute the cuteness of puppies or kittens. These adorable little creatures really pull at the heartstrings and appeal to young and old. However spending some time in a puppy or kitten shelter and seeing what undernourished or uncared for puppies or kittens look like, will make anyone who is serious about the well being of animals think twice about indiscriminate breeding.
Frequently Asked Questions about Rabies
Rabies
How often must I vaccinate my dog?
Puppies should be vaccinated at 3 months old with a booster vaccination required a month later and a booster given within 12 months of original vaccination. Thereafter animals who live in Rabies endemic areas like KwaZulu Natal should be given a rabies vaccination every year and animals living in non-Rabies endemic areas every 3 years by law, but preferably also yearly, because in places like Johannesburg which is non-Rabies endemic there have been several outbreaks of Rabies in the past few years.
Rabies
Important information about Rabies and who to prevent it
Rabies, a fatal disease of humans and all other mammals, is caused by a virus which has been associated with animal bites for more than 3 000 years and it is the oldest infectious disease known to medical science. Dogs have long been recognised as the main transmitters of the disease to people. When compared with other formidable human diseases such as Bubonic Plague and Smallpox, and animal diseases such as Rinderpest and Anthrax, Rabies has probably never caused comparably high numbers of deaths in humans and animals. However, the horrendous manner in which Rabies manifests itself in its victims continues to attract the attention of scientists, health and veterinary workers. The true scale of Rabies in South Africa remains clouded by the many thousands of people protected by post-exposure treatment each year after Rabies exposure and the undiagnosed human and animal Rabies cases not reflected in official statistics.
New puppies and kittens - Part 2 of 3
Pregnancy, birth and aftercare
Gestation (Pregnancy)
Dogs are on average pregnant for 63 days after fertilisation has taken place. It may be difficult to determine exactly when a bitch fell pregnant if multiple matings took place over a number of days and therefore pregnancy may seem to be longer than 63 days, sometimes up to 72 days. Sperm can also stay alive in the female genital tract for a few days and therefore fertilisation may happen a day or two or even up to a few days after mating.
New puppies and kittens - Part 1 of 3
Heat and Mating in dogs and cats
Few things in life are cuter than a puppy or kitten! If you would like to let your dog or cat have a litter of puppies or kittens there are a number of things you need to know in preparation for the process.
The Heat Period
"Coming into season" or "going on heat", is the time in a female dog (bitch) or cat's (queen's) life when they are receptive to a male animal and can mate to reproduce. Dogs and cats normally come on heat for the first time somewhere between the ages of 5 to 9 months. Smaller dog breeds mature earlier than larger or giant breeds, and will usually come on heat between 5 and 6 months of age. Large and giant dog breeds will usually come on heat after 6 months, sometimes only around 9 months of age. Cats on the other hand may in actually fact come into season as young as 4 months of age and therefore proper "family planning" is very important.
Urination problems in cats - Part 2 of 2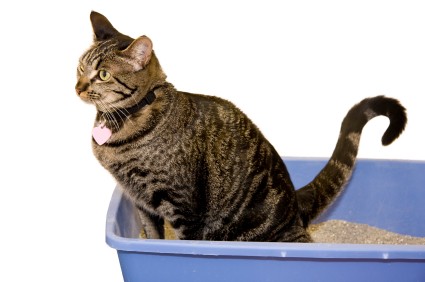 Territorial marking and Urine elimination
In part 1 of this article we looked at the difference between urine marking and inappropriate elimination in cats, and urine marking was discussed in more depth. In this article we will look at the reasons for inappropriate elimination as well as the diagnosis and treatment of both inappropriate elimination and urine marking.
In order to understand disease of the urinary system it is important to understand the anatomy of this system. The urinary system comprises two kidneys which are linked to the bladder by two tiny tubes called the ureters. The ureters terminate in the lower part of the bladder commonly referred to as the neck of the bladder. The bladder is a balloon like structure which can expand to many times its empty size when it is filled with urine. The main tube taking urine from the bladder to the genital organs is called the urethra. The urethra terminates in the vagina in female and in the penis in males.
Urination problems in cats - Part 1 of 2
Territorial marking and Urine elimination
Ask any cat owner and they will tell you that cats are not just small little dogs. So naturally a fair amount of the medical problems cats suffer from are unique to this species. In this two-part series we are going to explore one of the more common problems that affect cats.
Getting the most from your visit to the vet
Visit to the vet
Everybody wants value for money. No one will deny that it is no different when taking your pets to the vet. We love our four legged and feathered friends dearly, but like everything else in life, most of us have to budget for their expenses, and make sure we derive as much value out of a visit to the vet as possible.
The starting point of deriving value for money is to be courteous to the staff working in a veterinary practice. Being rude and obnoxious with the staff of the veterinary practice (especially the reception and support staff) will not endear you or your pets to them, and if you get their hackles up before the vets have even seen your animal, the total experience of visiting the vet is likely to be compromised in the long run.